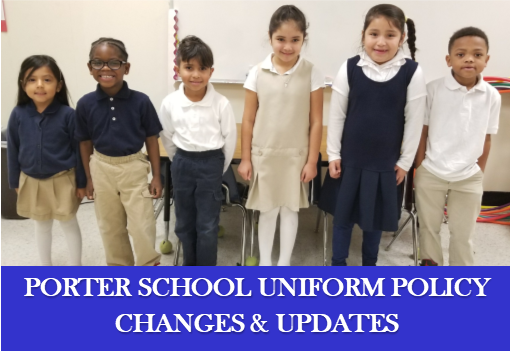 Porter's UNIFORM POLICY has a few new changes. The Porter Advisory Council met at the end of the school year, and one of the things they discussed was the uniform policy. After much discussion, a few changes and additions were made.
Please take a few minutes to look at the new changes and re-familiarize yourself with the Porter Uniform Policy. The expectation is that ALL Porter students are to arrive at school dressed according to the policy.
Students who come to school not dressed in uniform will be required to contact a parent/guardian to bring a change of clothes to the school.
NEW INFORMATION/CHANGES:
NO CROCS

- due to safety issues for our students (tripping during recess or milers or PE)
CURRENT INFORMATION to be reviewed by ALL:
NO yoga pants (pants of any stretchy material, unless worn UNDER skirt or dress)

ALL clothes MUST FIT appropriately (nothing baggy or tight)

NO HOLES in ANY clothing (this includes jeans on 'Jean Days')

Earrings can be NO LARGER than the size of a quarter

NO jackets worn as tops

Spiritwear and/or non-collared shirts can ONLY BE WORN ON PE DAYS

Tights MUST BE SOLID Porter color and only worn if UNDER a skirt or dress

NO V-Neck shirts on any day

NO STRIPES on any clothing (i.e., down the side of a pant, short, or skirt)
IMPORTANT NOTE: Parents will be called to bring their student a change of clothing if the student arrives at school not in Porter uniform.
VIEW THE PORTER UNIFORM POLICY