INSTRUCTOR:  Mrs. Derra Banks
banksdl@pwcs.edu
The Elementary School Club will begin in the fall of 2022 and the Middle School Club may be structured a little different next year.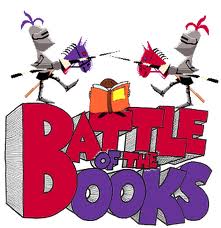 Middle School Battle of the Books

Students in Middle School interested in this year's book club will get more details via the morning announcements.

---
Elementary Battle of the Books

(4th & 5th Graders)
Designated Thursdays @ 3:45 - 4:45pm
2022-2023 Elementary BOB Schedule of Dates and Books:
October 20         
Introductions to Club, Procedures, Calendar, Competition
                            **WHOOSH! Lonnie Johnson's Super-Soaking Stream of Inventions (Chris Barton)                                          (We will read during our meeting.)
November 3         Elvis and the Underdogs  (Jenny Lee)                       
November 17      Stella Diaz Has Something to Say  (Angela Dominguez)      
December 1         I Survived the Galveston Hurricane, 1900  (Lauren Tarshis)               
December 15       Click! (Kayla Miller)    **Winter Holiday Celebration  
January 5            Gooseberry Park and the Master Plan (Cynthia Rylant)
January 19          The Terrible Two (Mac Barnett)
February 2           Chester Nez and the Unbreakable Code  (Joseph Bruchac)  
February 16         Fuzzy Mud  (Louis Sachar)  
March 2                Liberty   (Kirby Larson)
March 16             Review for Semi-Finals
March 30             Practice for Competition
***SEMI-FINAL COMPETITION (Time and Date TBD)
**Final Competition-if our team advances (Time and Date TBD)
IMPORTANT NOTE:  Please have the book titles read by the date outlined on our calendar.  We will have some copies available through the school library for lending out, but you may need to acquire a copy from the local public library. Please remember to read it quickly because others will be waiting for it too. It's a great idea to take notes and write sample questions to bring with you to each meeting.

DEADLINE TO SUBMIT PERMISSION FORM IS OCTOBER 17th