Parent/guardians are required to complete 10 hours a year per child attending Porter. All hours must be completed by the last day of school.
---
VOLUNTEER OPPORTUNITIES for 2023-24
---
VOLUNTEERS & DONATIONS for the 2023 DAY OF THE ARTS
DAY OF THE ARTS scheduled for Friday, December 15, 2023....VOLUNTEERS and DONATIONS are needed to make this day a success. You do not need to be artistic to help!!  Parents and family members can sign up for half or full day shifts, as well as food donations. With the help of the PTO, we provide breakfast and lunch for all volunteers!  Please use the link below to volunteer and/or sign up to make a donation:
VIEW DAY OF THE ARTS VOLUNTEER/DONATION SIGN-UP
---
VOLUNTEERS FOR ELEMENTARY ROBOTICS...
DO NOT BE AFRAID!!! We simply need you to bring your love of inspiring children to think and to work as a team. Of course, if you happen to have some knowledge of block coding or engineering…that is a plus, but NOT mandatory.
VOLUNTEER SHIFTS are 3:30-5:30 p.m.
SIGN UP FOR FLL ELEM ROBOTICS VOLUNTEER
---
 PTO VOLUNTEER OPPORTUNITIES
Join the PTO Event Contact list... As the planning begins for each PTO sponsored event, we will outreach to this group first for support. The elementary and middle school dances are scheduled on October 29th and December 1 respectively. We are seeking planners to chair or co-chair the events. 
---
CAFETERIA VOLUNTEERS....Volunteers help the cafeteria hostesses do many things, such as: wiping tables between classes, sweeping/mopping up spills, reminding students to walk, eat their own food, and sit facing the front; as well as keeping their hands to themselves.
VOLUNTEER EXPECTATIONS of cafeteria volunteers:
**Stay attentive to the students' needs.
**Please refrain from cell phone use.
**Stay in the cafeteria during your volunteer shift.
**Please inform cafeteria hostess if issues arise.
NO NEED TO SIGN UP for a cafeteria volunteer.
Lunches are 11 a.m. - 2 p.m.
Volunteers can come in any school day for work in the cafeteria.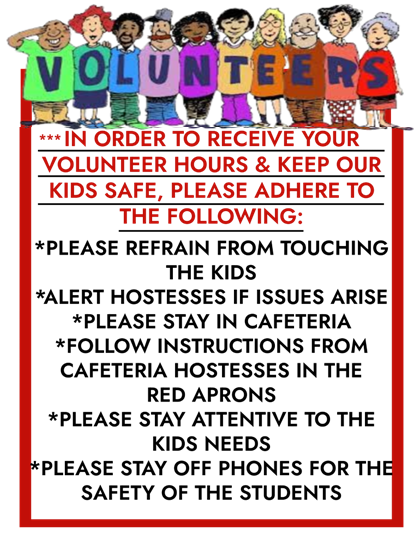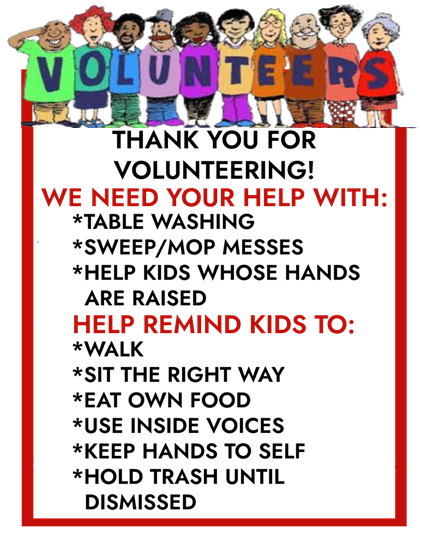 ---
VOLUNTEER TO HELP THE MIDDLE SCHOOL TEACHERS
The middle school staff continuously have volunteer opportunities. Use the link below to see what opportunities are currently available. This link will work all year long and will be kept updated with new opportunities.